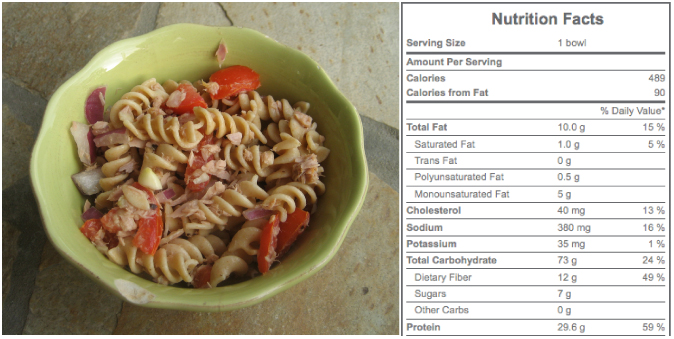 This is one of my favorite post workout meals.  It's really easy to make, full of high quality protein and fiber, and tastes awesome.  You can make this in under twenty minutes and take the left overs to work or eat them over a few days.  I like the salad both hot and cold.
Easy Pasta Salad
6 oz Barilla whole grain rotini (about half the box)
7 oz chunk light tuna
2 medium sized tomatos, diced
6 cloves of garlic, finely chopped
Half a big red onion, finely chopped
1 tablespood olive oil
Salt and pepper to taste
Directions:
Bring a pot of water to boil.  Once it's boiling, add a dash of olive oil and salt to the water, then add the rotini.  Cook for about 10 minutes or until desired hardness is reached.
While the water is boiling, chop up the tomatos, garlic, and red onion and put it all in a large mixing bowl.
When the pasta is ready, throw it in the mixing bowl with a tablespoon of olive oil.  Add salt and pepper to taste, and mix it all up.  You're done.  ENJOY!